Like a sailboat, life never moves in a straight line from the starting line to the finish. It also has a tendency to blast you with roaring winds, strange currents and a startling array of unexpected circumstances, which means you'll learn a heck of a lot along the way—and very likely emerge stronger and wiser
than before.
No one understands that better than Lou Sandoval, whose love of sailing has taken his life in directions he never expected and forms the backbone of everything from his profession to his family life.
Read the full article here originally published in SAILING Magazine, copyright 2017. www.sailingmagazine.net
---
by Peter Amos, Essex Yacht Sales
It's terrific to get together with fellow industry professionals. I am always grateful to Vin and his staff for arranging these meetings. On this occasion, one topic really captured my attention.
"It all starts with a sale"
Working day-by-day, deal-by-deal, it is easy to forget that it is our aggregate success that defines this industry. We can be proud that together, YBAA members keep the wheels turning, creating a well-ordered, dynamic marketplace that makes the boating industry tick. Yes, it all starts with a sale.
---
by John Burnham, YachtWorld Managing Editor
July brokerage transactions in the U.S. were fewer in number but much pricier than a year earlier. A total of 2,871 boats were sold—12 percent fewer than the 3,257 sold in July 2016—but the transactions produced $380 million changing hands, an increase of $50 million, or 15 percent. This contrasting data was compiled based on YachtWorld member brokers reports in the SoldBoats database.
---
The YBAA executive committee and board of directors has been very busy for this first half of 2017. Our typical year starts at our annual meeting in February, where we transition to our new officers and board members, set our goals and assign specific tasks to our committees to be sure we are all working to accomplish our goals.

Read the full report here.
---
Most brokerage yachts on the East Coast and in the Caribbean are bought and sold using one of two agreements – either the International Yacht Broker's Association Purchase and Sale Agreement for Brokerage Vessel ("IYBA PSA") or the YBAA Vessel Purchase and Sale Agreement ("YBAA PSA"). While very similar in many respects, there are a few distinctions worth noting. This article will explore the main differences between these two agreements.
YBAA Members read the full article here.
---
Advertise on the YBAA website and in the monthly Yacht Broker Newsletter. Click here to view all of the options and order your ad placement TODAY!
Act now - it's an investment that will create new opportunities in 2017!

---
---
---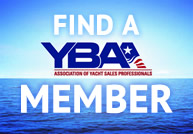 ---
---
---
---
Sponsored by YBAA & CPYB
---
---
---
Quick Links
Add Additional Location

Pay Your Fee Online
Free for Members
Make Changes to Your Records
Each Receive All Membership Privileges
---
---
Upcoming Events
October 10, 2017
8:00AM-3:30PM
10 CPYB Recertification Credits
Southwestern Yacht Club, San Diego CA
October 12, 2017
8:00AM-3:30PM
10 CPYB Recertification Credits
Oakland Yacht Club, Oakland CA
October 25, 2017
12:00-1:00PM
Escrow Agreements
3 CPYB Recertification Credits
November 8, 2017
12:00-1:00PM
AMI Kids Donations
3 CPYB Recertification Credits
November 15, 2017
12:00-1:00PM
Co-Brokerage Process: How to Survive It
3 CPYB Recertification Credits
November 21-22, 2017
10 CPYB Recertification Credits
Pacific Gateway Hotel, Richmond, BC
December 6, 2017
12:00-1:00PM
Mark Your Calendar
3 CPYB Recertification Credits
December 13, 2017
12:00-1:00PM
Selling Yachts in Snowy Conditions
3 CPYB Recertification Credits
View all