Save The Date



Please note: You must be a member to register.
---
Yacht Tips with Lenny Rudow
How to Become a Yacht Broker
| | | |
| --- | --- | --- |
| Although many of us dream of the day we can quit our jobs and go cruising, the balance in our retirement account may not allow for that just yet. For that reason, many people who love boats and know more than their fair share about them often entertain the idea of working in the marine business. Becoming a yacht broker is one prospect many find intriguing; here are some of the basic requirements. | | |
---
Member News
McCollough Yachts Completes First Sale

McCollough Yachts, a Brokerage, Design, and Engineering firm in Newport, RI, has completed its first sale. Concluding at $4,800,000, McCollough Yachts Brokerage represented the Buyers in their purchase of FPB78 #3, formally known as IRON LADY II. The new owners have big plans for their vessel, known as UGLY BETTY.
---
Industry News
Written By: Joshua Bremmerer, www.onboardonline.com
The boating industry boomed massively in 2021 as people looked for new hobbies and activities to explore the great outdoors after the turmoil of 2020. New boat sales hit a 13-year high of 318,550 units in 2020, which is staggering when you consider where the market was ten years ago – only 178,000 were sold that year.

Although the industry is undoubtedly booming, there are several challenges in relation to environmental factors and consumer behavior. The continued presence of ethanol as fuel is worrying, and rising prices have driven a lot of casual boaters away from the popular pastime. Manufacturers are largely on top of these trends – even though boats are becoming increasingly powerful, they are also energy-efficient to meet these environmental needs.
Connecticut Spring Boat Show Announces 2022 Dates
| | |
| --- | --- |
| | The 6th Connecticut Spring Boat Show will take place April 29–30, and May 1, 2022 at Safe Harbor Essex Island, located in Essex, CT. Visitors will enjoy seeing a wide range of new and brokerage, power and sail models ranging from 20ft to larger than 65ft from leading boat brands. In addition to boats on the docks, the show will have yacht brokers, gear, artists, accessories, and service companies exhibiting on the lawn. |
---
Sales Tips with John Chapin
Why Prospects Ghost You and What to Do About It

As salespeople, we've all had the situation where a decision-maker told us they were interested, asked us to follow-up at another time, and now after several follow-up calls and e-mails, we can't get ahold of them and can't get them to return our calls. So, why are prospects ghosting you and what can you do about it?

The #1 reason you get ghosted: The prospect was never really interested, to begin with. Solution: Make sure people are actually interested. If someone tells you to get back to them at another time, you can't let that sleeping dog lie, you've got to ask some questions to make sure there's actual interest.
| | | |
| --- | --- | --- |
| | | |
---
Renew Your Dues

YBAA offers many invaluable benefits to its members including conferences, networking, and discounts on business services. Click the EZRenew button to continue being a part of this thriving community.

---
Share Your Company News with YBAA
Do you want to share news about recent sales, new hires, office expansion, or other business updates and successes for FREE? Just send your news items by the first of the month along with any photos to marketing@ybaa.yachts.
---
---

Upcoming CPYB Testing & Exam Days
Register for exam prep sessions offered the morning of the CPYB Testing dates. Click the date to learn more.

Continuing education and professional development are essential for Yacht Sales Professionals to perform their job at the highest possible level. Certified Professional Yacht Brokers (CPYB) are required to earn a minimum of 21 credit hours of continuing education/professional development every three years.

| | |
| --- | --- |
| View the | |
---
Don't Miss Out on the Conversation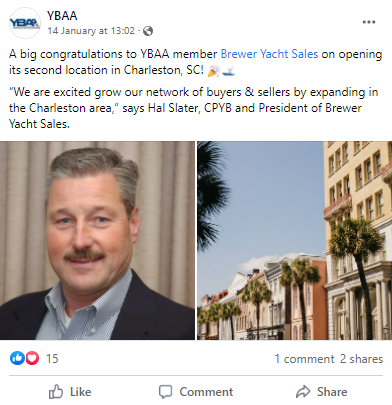 Keep the discussion going by engaging
with us on social media.