Complete Story

06/15/2023
Get Involved – What Are You Waiting For?‎
By: Mike Titgemeyer, CPYB, YBAA Board Member, Seattle Yachts & Crusader Yachts Sales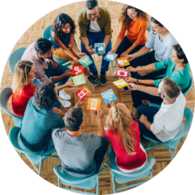 Get Involved – What are you waiting for?
No really – What are you waiting for? We don't wait for the phone to ring, we make calls, send emails, and grow our business. We don't wait for customers to walk in our doors, we are active in the boating community, market aggressively and make sure the buyers are finding us!
A couple of certainties…
We haven't arrived yet – as sales professionals we need to be constantly evolving, learning and constantly developing new skills for success.
We are humans and crave social interaction and acknowledgement.
Marine industry professionals are passionate about the boating lifestyle.
We sell stuff no one needs….reality check!
So – My focus here is to get involved and network with your peers. Here are FOUR benefits of getting involved.
Knowledge - You might learn something. I'm considered an expert in my field. I, regularly, get calls from brokers from other firms asking for my advice. It feels good to know I'm approachable, available, and helpful. We should all strive to be an industry expert. Call me, ask me a question. I'm here for you and you should be there for your peers as well!
Networking – Every time I volunteer at a board or industry event, I walk away meeting someone new, re-engaging old relationships and guess what… those contacts are invaluable to my success. In my 35-year career in the marine industry, I have NEVER taken a job where I submitted a resume, I've submitted plenty of resumes for jobs, and I've interviewed for plenty as well… but not once did I got to work a company which I submitted a resume to. EVERY marine industry position I have taken, I have networked into the job…. How did you get your last job? How will you find your next one?
Passion – As I mentioned, we are ALL passionate about the boating lifestyle. The more you give back to the industry through boards, events, owners associations or however you support the Marine Industry. It matters, it feels good, and it's the right thing to do. It will increase your passion and drive for our industry and make sure that our industry is in good hands.
Success – Successful people do all these things. You want a well-rounded, successfully career? Just look around, it's what successful people do – they give back, they engage in community and their industry and guess what they are more successful for it!
No one has the market covered on success and leadership skills. We are all growing, learning, evolving and on a path for arrival!
What are you waiting for? Why would you settle for being mediocre? Become a CPYB, get involved in any of these organizations. YBAA / IYBA / CPYB / Sail America / MRAA / BoatingPAC / ABC or a Marine Trades Association in your area / state.
Start slow. Attend YBAA events, YBAA U in Annapolis, become a CPYB, participate in YBAA webinars and CPYB webinars, do something! Take note of how you benefited and how your business benefits and then keep improving, growing sharing… and then your phone is going ring and it's going to be a colleague asking about a listing, asking you about a contract question, or just stopping you at the store to say hello with "I saw that new listing on the Intrepid 430 you just listed…." It's starts with "showing up", so show up and get involved. You never know how you and your business might benefit!
Thanks for reading (showing up) – See you soon!
---